Launch of the New ABPath.org Website
July 31, 2023 – The American Board of Pathology (ABPath) is pleased to announce the launch of the all-new ABPath.org, your dedicated source for comprehensive information on board certification in pathology.
Our primary goal during the development of this site has been to enhance user-friendliness, providing a seamless experience for pathology residents/fellows preparing for board certification exams and board-certified pathologists participating in the Continuing Certification Program. With a modern design and intuitive navigation, we aim to improve our visitors' interaction with the site.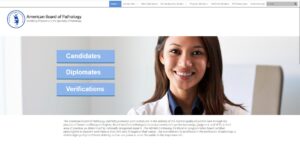 We recognize that creating an online resource for our candidates and diplomates is an ongoing process. As we unveil the new website, we are committed to continuously refining and enhancing ABPath.org to meet those needs.